shaniasupersite.com

Shania Twain Knows the Power of Leopard Print
Brad Pitt might not impress the Queen of Country Pop—but animal prints sure do.
ELLE
As told to Rose Minutaglio
September 12, 2022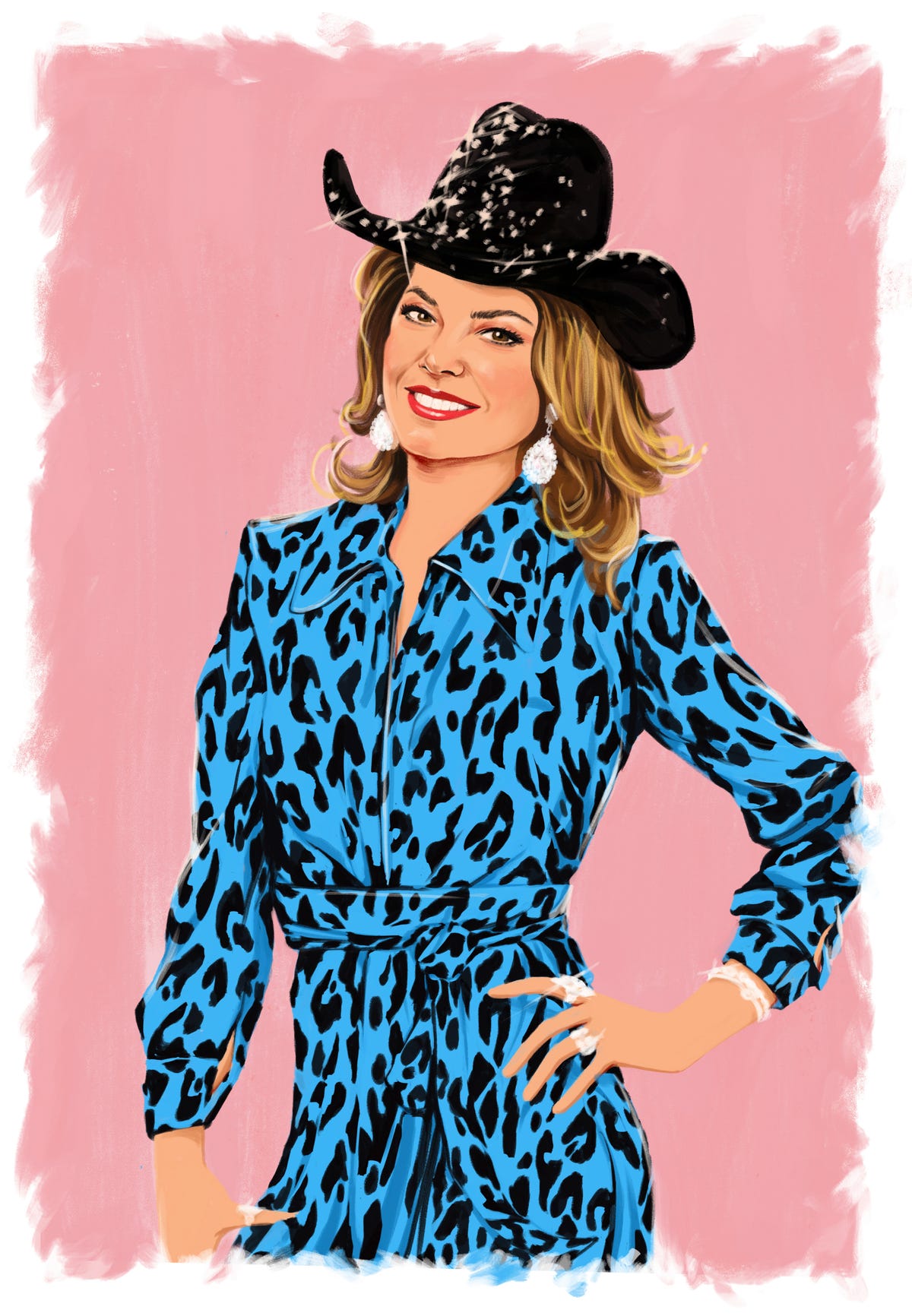 Only a handful of women have successfully merged high fashion and the American frontier: TV cowgirl Dale Evans and her signature white boots, Dolly Parton's hand-embroidered Nudie Cohn suits, Beyoncé in a black Stetson hat. In 1998, country-pop singer Shania Twain left her mark on Western wear with a hooded leopard one-piece in the That Don't Impress Me Much" music video. The catsuit launched a thousand halloween costumes and a fervor for blends of caramels, browns, and blacks that hasn't waned since. Twain has worn leopard print on album covers, talk-show appearances, and even during her "Let's Go!" Las Vegas residency. For the singer, one of the best things about being a woman—besides the prerogative to have a little fun—is wearing leopard print with abandon. "[It's] my neutral," she explains.
In this month's Clothes of Our Lives column, we are celebrating all things Cowgirl Couture with Twain, who has new music out later this month and an album due in 2023. Below, in her own words, she takes us inside her long-standing relationship with leopard print, explains why the latest Western fashion cycle is "sexy," and reveals her personal fashion motto. When Twain walked in the room for our interview, she had on—what else?—a fabulous black and blue leopard-print jumpsuit. Let's go girls.
Some people say "white is my neutral" or "black is my neutral." For me, leopard print is my neutral. When I first started shooting music videos at the very beginning of my career, I would gravitate to all the leopard print options on the rack during the styling process. I just felt like it was the no-fail neutral that I could wear with anything. You can dress it up, you can dress it down. It is a staple print because you can put leopard on velvet or chiffon or sheer or silk. Anything. It's hyper flexible.
My most famous leopard-print outfit is probably the "That Don't Impress Me Much" catsuit, which was based on a fabric that [fashion designer] Marc Bouwer had in his showroom. It was a stretch velvet. I fell in love with the way it moved. When you're running around and dancing and jumping and doing quick changes, your outfit has got to be durable. I never want to feel restricted when I'm performing. So it starts with comfort. It always does with me. Whatever I'm going to wear on stage, ithas to be comfortable.
So I said to Marc, "Let's go with midriff—oh, and I like a flare leg." Getting the outfit together for "That Don't Impress Me Much" was very collaborative. I knew we were going to be shooting out in the desert, so I needed to be comfortable for 12 hours standing on my feet. That meant platforms and layers so that I could take my jacket off to cool down.
More recently, I wore leopard print on my "Now" tour. Essentially, I took it from warm gold tones to black and white. I wanted the dress to be glamorous for the stage, flowing, and easy to wear. Even though it looks like a gown, it's actually sporty. Under the dress was a matching stretch bodysuit that allowed me to move around and be very flexible. [It was] still glamorous, but gave me room to dance and move and jump around. It served a purpose. The design was deliberate for that reason. I wanted the feeling of a trench coat, like in the "That Don't Impress Me Much" video. Now that I think about it, I should have put a hood on it! Maybe I'll do a different one in another color and put a hood on that one.
I'm actually wearing leopard print today. [Editor's note: When Twain sat for this interview, she had on a blue and black leopard print Diane von Furstenberg jumpsuit.] I love the fact that it's not in classic colors. You can have so much fun with leopard print. It belongs everywhere, from haute couture to a girl out riding a horse with her leopard-print cowboy hat.
At my shows, I get girls wearing leopard-print cowboy hats with leopard-print fringe jackets. It's so adaptable, and there are a lot of cool girls out there wearing it as part of their own personal fashion—especially with denim. Denim looks great with leopard print. It's kind of rock-and-roll-cowgirl-chick. Cowgirl style today is quite sexy and playful. I like to go to rodeos and see how the girls are wearing fitted jeans so beautifully. Rodeo jeans have stretch in them now, so you can wear fitted clothing that still moves and stretches. Cowgirl fashion has come a long way in still allowing you to feel sexy and get your job done.
I'm a big horse rider. When I ride, I'm usually wearing leggings or riding pants, with this pink embroidered shirt that I love. I can't believe there are no stains on it. There should be all kinds of horse stains on it, but it just never quits. The embroidery reminds me of something that Orville Peck might wear. It's got a funky Western vibe.
If I really want to get into a Western spirit, I'll also wear cowgirl boots. The best cowgirl boots are the ones that are comfortable right off the bat—ones you don't have to wear in to be comfortable. You've got to be able to run in them right off the bat. That's just my personal feeling about a great cowgirl boot.
I don't usually ride in cowgirl hats, but I do wear them when I go out. Cowgirl hats give you height—plus they are great for bad hair days. I have a lot of bad hair days. Hats are the perfect finishing touch after you get off a horse and need to do a quick change for going out to dinner. I don't want to have to fuss with my hair, so I just stick it back in a bun or a ponytail. I put on a great cowgirl hat and, poof, I look dressed up. I love a Stetson. They're very flattering, really good quality hats. I wouldn't ride in one, because they're too pretty. And trust me, when I'm riding, I'm getting dirty. So I don't want to get a Stetson dirty.
My fashion motto is: Wear what is comfortable so that you wear it with confidence. I also really love recycling fashion from my past wardrobe, or going to shops that have vintage things. I'm not a slave to new fashion in that way. People are always giving me advice on fashion. I don't always get it right. Except for leopard print—that I do get right.
This interview has been lightly edited and condensed for clarity.
.