shaniasupersite.com

Country music stamps revealed: includes four living legends

Linn's Stamp News
By Jake Bigalke
June 24, 2014
Five Canadian legends of country music will be honored July 31 on new commemorative permanent stamps from Canada Post. The five stamps feature musicians Shania Twain, Tommy Hunter, Hank Snow, k.d. lang and Renee Martel.
Four of the five are living honorees. Snow died Dec. 20, 1999.
Each stamp will be issued in a separate booklet of 10 stamps, and a souvenir sheet will be issued with all five stamps.
The same designs are also planned for use on international-rate postal cards.
Shania Twain's fame began with the release of her debut album, Shania Twain, in 1993. Her 1997 album Come On Over became the best-selling country album of all time. She was inducted into the Canadian Music Hall of Fame in 2011.
Tommy Hunter debuted on the radio at age 16 in 1952, and went on to enjoy an impressive 27-year run of his popular country music television program, The Tommy Hunter Show.
Hank Snow's song I'm Movin' On was the top country music hit in 1950 for a record 21 weeks. Over the course of his career he recorded more than 100 albums and performed at the Grand Ole Opry for 46 years.
Her 1984 independent label studio album A Truly Western Experience led to k.d. lang's 1987 debut with Warner Bros., Angel With a Lariat, and a fast-growing and devoted following. Blending country, pop and rock, the multiple Grammy award winner joined the Canadian Music Hall of Fame in 2013.
Noted for her "uniquely Quebec expression," according to Canada Post, Renee Martel has recorded more than 25 albums, exploring traditional country and popular modern stylings.
The Canadian Country Artists stamps will be issued as nondenominated (85¢) permanent stamps for Canada's domestic letter rate. Canada's permanent stamps are valid in perpetuity for payment in full of the domestic first-class letter rate despite future rate changes.
The booklet stamps are self-adhesive and the souvenir sheet will have moisture-activated adhesive.
The Canadian Country Artists stamp designs pictured with this article are Canada Post publicity images.
The stamps were designed by Xerxes Irani, who worked on the Martel, Twain and Snow stamps, and Roy White of Subplot, who designed the Hunter and lang stamps.
Canada Post stamp design manager Liz Wong organized the stamp project.
The designs for each stamp are described by Canada Post as "individually designed to capture the musical style of each of the artists."
Each of the individual official first-day covers for the set will be postmarked in the artist's hometown: Twain in Windsor, Ontario; Hunter in London, Ontario; Snow in Brooklyn, Nova Scotia; lang in Consort, Alberta; and Martel in Drummondville, Quebec.
Canada Post products are available at www.canadapost.ca/shop.
Stamps and FDCs are available by mail order from the National Philatelic Centre, Canada Post Corp., 75 St. Ninian St., Antigonish, NS B2G 2R8, Canada; or by telephone from the United States and Canada at 800-565-4362, and from other countries at 902-863-6550.
Canada's stamps and stamp products are also available from many new-issue stamp dealers, and from Canada Post's agent in the United States: Interpost, Box 420, Hewlett, NY 11557.
Available for pre-order from the Canada Post shop. Not shipping until on or after July 31st, 2014.
Shania Twain Permanent™ Domestic Stamps—Booklet of 10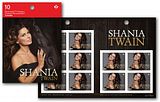 Shania Twain Official First Day Cover—Single Stamp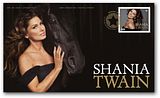 Shania Twain—Postage Paid Postcard

.