shaniasupersite.com

Shania Twain to perform the Summer Festival 2015
Everything indicates that she will perform her first concert in Quebec in 11 years
Montreal Journal
By Cédric Bélanger
January 30, 2015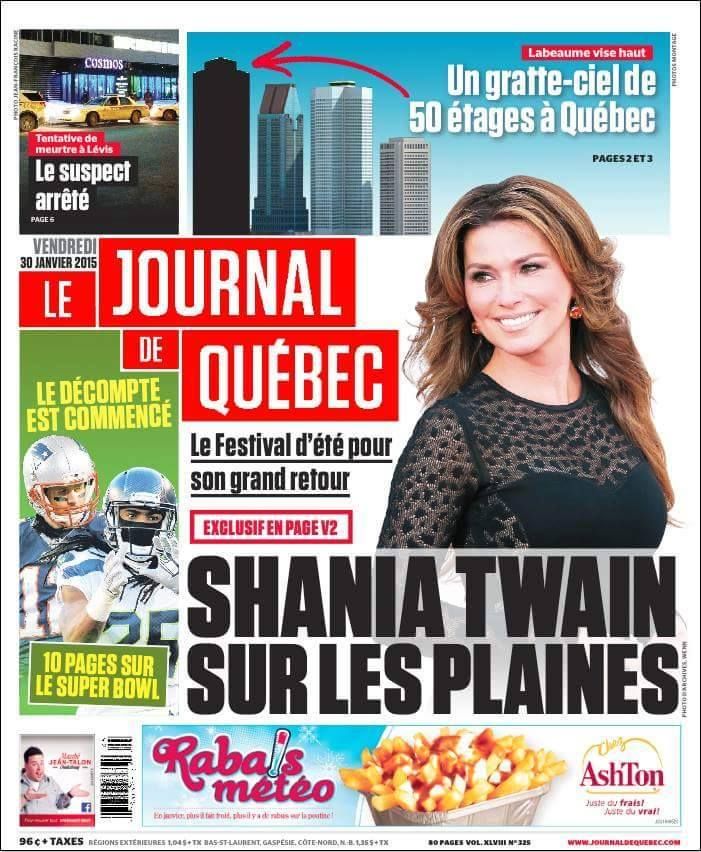 The Summer festival for her comeback ... Shania Twain on the plains
Failure to attract pop queen Taylor Swift, the summer festival will put on a queen of country for its 2015 lineup. Everything indicates that Shania Twain will sing her greatest hits on the Plains of Abraham in July, The Journal has learned.
According to our sources, the FEQ and the management of the Canadian singer is wrapping up the final details of the agreement that will seal Twain back in the capital. Her last concert in Quebec dates back to May 8, 2004, when she had attracted 13,500 fans at the Pepsi Coliseum.
The Journal does not know what the proposed date for the concert, but the first weekend of the festival, which runs from July 9 to 19, would be in the sights.
Shania Twain in Quebec City would be part of a great return on Canadian stages from the one that has just concluded a two-year stay and 105 performances of her show Shania: Still The One Live From Las Vegas at The Colosseum Caesars Palace.
"I think I'll do more concerts. Las Vegas represented a transition for me, "she had said, last year, when she gave two concerts in Calgary.
In March, Twain will launch a CD / DVD recorded in Las Vegas and with all her greatest hits in careers, That Do Not Impress Me Much to Man! I Feel Like A Woman!.
.