shaniasupersite.com

Shania Twain returns to her Kids Can Clubhouse in NLV: 'It's such a great success; I feel like celebrating'

Vegas DeLuxe
By Robin Leach
May 28, 2014

For the first time since she launched her Shania Kids Can Foundation Clubhouse eight months ago at a North Las Vegas elementary school, Shania Twain returned Tuesday for a report-card checkup and was ecstatic to hear the passing grades.
After a couple of hours with the kids attending her program at Tom Williams Elementary School, the superstar singer and resident headliner at the Colosseum in Caesars Palace talked with me about her foundation that creates activities in elementary schools to assist needy students who fall into the gap between a dysfunctional personal life, yet don't qualify for social-service intervention. Our original story was posted Oct. 21.
At that time, Shania told me: "These are children who are often victims of abuse and/or neglect who can be difficult to detect. These children are left to face the school day without support and struggle on their own to cope with the negative impact their personal-life suffering has on their social and educational development."
It was a completely different story Tuesday. I asked her if it was as exhilarating as the first time she performed onstage.
"Well today was a huge surprise and big change. Seeing all the progress; it was wonderful and so beautiful. I was proud. I sensed a real sense of pride for the children and school. There was huge progress. These kids were just so open and excited. They had questions; they wanted to answer my questions.
"They were proud of their own progress. They're a unit now, they're a group of friends, and they have all these exciting things to share. It was fantastic. They have just come out of themselves. They were very communicative, very self-confident and really wonderful. They were just different children."
And that's in a period of less than a year?
Exactly! Just eight months, so not even a year.
So what does that prove to you?
It just proves that I'm right, that kids are missing this; there's a gap. They need the support. It proves to me that the potential is there and just needs to be nurtured. Without this nurturing, they can't do it themselves. They don't have the maturity, and by the time they get into middle school, they're likely to get off track.
It's too late at that level. They need it, and they need it at this age. They are living my experience, and what I thought I needed when I was younger they're proving is really the case.
What did you flash back to today about your own childhood?
The flashback I got back today was how lucky they are and how my condition at the time, if only I had this or if only I had that was so true. I feel like I'm back in time when I'm with them.
Did that make you feel sad? What was the feeling that you got?
You know that's such a good question. There's a sadness in me not just for myself and remembering how I felt, whether I was humiliated or embarrassed or uncomfortable, but at the same time I felt like celebrating because these kids feel that they've got this program now, and they don't have to experience that or not experience it anymore. I felt like celebrating.
What was the one little story that touched you today?
Ohhh, there are three kids moving on to middle school, and they're so sad. They said we're not in SKC next year because we're going on to middle school, and there's no SKC in middle school and they're so sad about it.
Then another girl is moving to another city, and she's going to leave the program, as well, and she's still a primary student. That was very touching for me, very sad that it is the way it is at the stage as far as we can go now that we're able to give, but the need is so broad.
They don't want to leave the program; they don't want to go. It's heartwarming, but it's sad, too.
Can you expand it? Do you want to?
Oh, I definitely want to expand it. I need money; I need support. I need people, too; I need generosity. The program is established. I'm doing a ton of work to put it together. Like any charity, I need money and support, so that's my goal, and that's what I'll keep doing.
You'll do it again this fall at the same school or other schools?
I'm not sure. The need is so broad that you could just throw open a map and hit somewhere that needs it. So deciding where to expand the next school is hard to say right at this moment. I haven't really targeted it exactly.
It's something you'll plan this summer, right?
There's a very generous group in Canada who are dishing out the money, and we're sitting down now to talk about opening up more schools already in Canada. We need more people like that in America. I'll open up as many as we can get money for — it could be one, it could be four. Someone could come up overnight and say, "You know what, Shania? This program is so amazing, let's open up five schools. Let's open up five more programs."
What is the program now that you've seen it work in Las Vegas?
The program is a dedicated, furnished and equipped space provided for the kids to congregate with a program leader. We're qualified to nurture and support their learning, their emotional stage and help integrate that into the rest of the school and as a larger community. In this space, we provide motivational speakers who come and inspire the children and motivate them. Talking about their careers and their education.
Field trips throughout the year so the kids get exposed culturally. They get homework support, hygiene support, nutritional support. All of the things that help keep them from getting distracted from why they're there — to learn. They get relief from all the challenges they're facing, and then they're able to focus on their studies, reach their potential academically and actually enjoy themselves and feel comfortable and like they belong. Not ridiculed and rejected.
If you were to grade yourself on the success of this pilot project in Las Vegas, what would you give yourself out of 100? Not you, but the Shania Kids Can?
This program is 100 percent; I'm so satisfied. The school is like a model program; they're doing such a model job. The students are happy, the program leader is moved; it's like the experience of her life as a counselor. They've never seen such progress in such a short period of time. Listening to them speak is everything. Listening to her speak, listening to the principal speak, the supporting staff and the kids, they are all just over the moon.
This is your first time back since you opened your clubhouse. Do the kids know who you are?
Oh, yeah. The kids know who I am. I don't know if they know who I am as an entertainer, but they certainly know who I am in association to the program. They love the program. I think they feel ownership of it.
What's the message that you got out of this today?
It's working. It's really, really working. It's a very customized program; it's a handheld program, very specific. It's proving itself very beautifully. I'm just very happy, and I feel like celebrating. It's just such a great success, and I'm motivated to keep it going. I'm feeling very happy. It's better than applause at the end of a show.
Shania Twain's current run of "Still the One" at the Colosseum takes her through June 7.
Robin Leach has been a journalist for more than 50 years and has spent the past decade giving readers the inside scoop on Las Vegas, the world's premier platinum playground.
Follow Robin Leach on Twitter at Twitter.com/Robin_Leach.
Follow Vegas DeLuxe on Twitter at Twitter.com/vegasdeluxe.
Follow Sun A&E Editor Don Chareunsy on Twitter at Twitter.com/VDLXEditorDon.
VIDEO - "OK! TV" (Link)
VIDEO - FOX 5 Las Vegas (Link)
PICTURES
Shania with Renee Bargh from "Extra"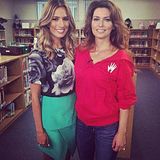 .