shaniasupersite.com

An Exclusive One2One Interview With Shania Twain

W Dish
By Russell Sabio
March 25, 2015

Welcome back Shania Twain. For more than a decade, the Timmins, Ont. native has been off the touring roster but is now returning to the limelight as she embarks on a 48-date word tour. #nobigdeal
In an exclusive One2One interview with Paul McGuire, airing on CMT Thursday at 10:30pm ET/7:30 PT, the original bad-ass songstress talks touring, a new album and her residency in the now iconic Caesars Palace in Las Vegas.
"I was ready to be behind the scenes and create it from the bottom up," the "Any Man Of Mine" singer says of her stint at Caesars.
"Getting back up on stage again, I needed to understand the whole nuts and bolts and be involved in the beginning so that I was really comfortable with the platform when I got out the first night. I studied for my exam is what Iím saying."
She studied then slayed, night after night. The performance included multiple costume changes, live horses and a whole lot of fringe.
"I have adopted a whole new attitude because of (the show)," the singer tells McGuire. "It was a good lesson for me, not to hesitate so much. Sometimes you just gotta do it, you gotta jump."
And so the singer is jumping into a whole new adventureóthe "Shania Rock This Country Tour."
"When the show was closing in Las Vegas I said I needed to end my touring career with that excitement with that atmosphere so that was decision to go on the road," Twain says.
"The tour is a celebration of what I had achieved in Las Vegas of getting back on stage in the first place, realizing that I could sing again. Now that I can sing again, I know Iím going to make another record."
Say what?! A new record? Apparently so. The singer is busy writing and laying down tracks in the studio. (I think I heard 50 Cent use the slogan "laying down track" once. So here it is.)
More leopard, more fringe, more Shania, please!
Watch "Shania Twain: One2One" on Thursday, March 26 at 10:30pm ET/7:30 PT, following the 90-minute "Shania: Still the One Live From Vegas" special.

Shania taping CMT Canada's "Shania Twain: One2One" at Corus Quay headquarters in Toronto, Ontario, Canada (3/6/15)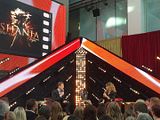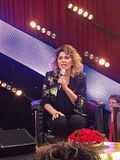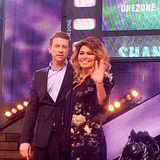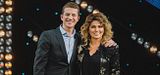 .