shaniasupersite.com
Order Of Canada Ceremony

Click on thumbnail for full size
If some images don't appear, click reload/refresh page
WATCH SHANIA RECEIVE ORDER OF CANADA - Windows Media Player
WATCH CLIP OF ORDER OF CANADA & PRESS CONFERENCE - Windows Media Player
Shania arrives at Rideau Hall, the official residence of the Governor
General Michaelle Jean, to be invested to the Order of Canada as
Officer at a ceremony, Friday November 18, 2005 in Ottawa.
High Quality--->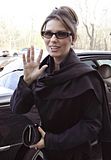 Shania after being awarded the rank of Officer in the Order of Canada.
The award is to recognize outstanding achievement and service in
various fields of human endeavour and is the country's highest honor
for lifetime achievement.
---------------------------------------------------------------------------------------
.
previous gallery return to gallery index next gallery