shaniasupersite.com

PEI Founders Week Concert - August 30, 2014 - Charlottetown Event Grounds
Charlottetown, Prince Edward Island, Canada

Click on thumbnail for full size
If some images don't appear, click reload/refresh page
Grandstands and stage

On my way to PEI! #ShaniaPEI - 8/29/14

My view last night in Charlottetown! See you tonight at PEI! #ShaniaPEI - 8/30/14

My touring family surprised me with a birthday cake this morning at rehearsal in PEI! #ShaniaPEI - 8/30/14

Soundcheck/Rehearsals - 8/30/14

Concert - 8/30/14
Click HERE for more great pictures from 95.1FM CKCY in Charlottetown, P.E.I.
9/1/14 - Thank you PEI. What a night! #ShaniaPEI #RealMenLoveShania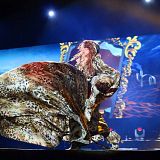 9/4/14 - #TBT to last week at PEI! #ShaniaPEI


Shania Kids Can after-party at Redwater Rustic Grill at the Holman Grand Hotel

Celebrated with some birthday cheese cake after the concert in beautiful PEI! So much fun!